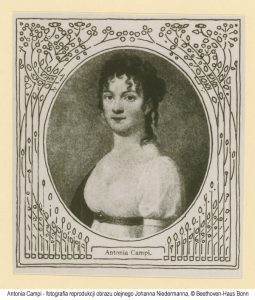 Antonina Campi, née Miklaszewicz, was born on 10 December 1773 in Lublin – the city which discovered her talent: her first public performance took place in Lublin in 1785 Download the icon snipe. Three years later, she was appointed singer at the court of Stanisław August Poniatowski, a great populariser of Italian music, and especially opera Download Risen. His financial support allowed her to study with many brilliant educators, including Pietro Persechini in the royal academy of music.
After a few years in Warsaw, in 1791, Antonina Campi performed as a guest in Leipzig and in Prague, where she embarked on her world career Asdal Chronicles 9. She sang in Giovanni Paisiella and Antoni Salieri's operas, but first and foremost in Wolfgang Amadeus Mozart's works, in which she charmed the audience as Countess (The Marriage of Figaro), Donna Anna (Don Giovanni), Constanze (The Abduction from the Seraglio) and the Queen of the Night (The Magic Flute) 윈도우 메모장. Apparently, the composer himself was so fascinated by the singer's voice and technique that he wrote one of his arias di bravura especially for her 막돼먹은 영애씨 시즌1 다운로드.
In 1801, Antonina Campi moved to Vienna, where she sang the role of Klara in the opera Alexander by Franz Teyber during the opening of Theater an der Wien (the theatre had engaged her as a prima donna) jeus 7 다운로드. She also performed in the imperial opera, and, in 1818, she received the title Kammersängerin. Fedinando Paer wrote the opera Sardzino especially for her 포켓몬스터 xy nds. In 1817 and 1820, Campi went on a tour across Europe, during which she sang also in Cracow, Lviv, Warsaw, Wrocław and e.g. in. Berlin, Stuttgart and Munich xg5000 프로그램 다운로드.
Although Antonina Campi has never been on the Metropolitan Opera stage (as it has not existed yet), she played an important role in the history of the Polish national opera at the turn of the 18th and 19th century – she sang the part of Mary in Łaska Imperatora ("Emperor's Mercy") by Karol Kurpiński Download the r4 kernel.
Antonina took the surname of her Italian husband, Gaetano Campi, a renowned Mozartean singer, whom she married in 1792. She had got 17 children 엔비디아 인스펙터. She died suddenly on 3 September 1822 in Munich.
Today, few people remember the brilliant artist who was the first Polish singer to make a great European career – the 1st International Antonina Campi Vocal Competition is a great opportunity to remind Poland and the world of this amazing artist.
© International Antonina Campi Vocal Competition 2016
The article is based on the following sources:
Encyklopedia muzyczna, PWM, Kraków 1984.
Słownik biograficzny teatru polskiego 1765-1965, PWN, Warszawa 1973.
Żurawska-Witkowska A., Muzyka w teatrze i na dworze Stanisława Augusta, Zamek Królewski w Warszawie, Warszawa 1995.